Past Events
A smattering of past events:
Neighborwood Days: Ongoing 
The Neighborwood Program is designed to provide the general public with a place to experience the benefits of forest stewardship firsthand through hard work in an inspiring natural setting.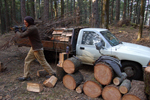 The spirit of volunteerism is central to the success of the program and to the many communities – human, vegetable, and animal – that benefit from biodiversity at the Little White Salmon Biodiversity Reserve. The Little White Salmon Biodiversity Reserve is the land-trust in which Neighborwood operates.
May 1st – University May Day
Representatives from four surrounding universities gathered to discuss collaboration in ongoing projects in the Little White Salmon Biodiversity Reserve.
April 22 – Earth Day with Aksel Naerstad of the Norway Development Fund and co-coordinator of the More and Better Network
Attendees gathered to listen to a presentation by Aksel Naerstad, Senior policy adviser, The Development Fund, Norway (www.utviklingsfondet.no) and International co-coordinator of the More and Better Network (www.moreandbetter.org) and brainstorm steps for future collaboration.
---
February, 2013
Words in the Woods
A women's literacy project brought to you by World Steward and Highland Center of the Art and Science of Sustaining Culture
6 p.m. Friday the 15th of February through the Afternoon of Sunday the 17th
Location:101 Highland Orchards Road, Underwood WA 98651
"In reading great literature I become a thousand men, but yet remain myself. I see with myriad eyes, but it is still I who see. I transcend myself and am never more myself when I do." C.S. Lewis
Who are we, but one speck in the universe of those who have died, those who live, and those who are to be born? Come join us February 15-17 for a unique women's writing workshop in a beautiful farm setting. Words in the Woods is a time of retreat and reflection on our day to day lives and our relationships with others and the world around us. Using guided discussions and basic writing technique, the participants will engage with one another in the somewhat forgotten ceremonies of conversation, debate, reading, and writing. Through encompassing the literary process with stimulating work in the forest/farm environment, women will discover the wisdom that comes from the responsible interaction of human beings with nature.
With the aid of timeless literature and great thinkers of the past, this weekend hopes to impress upon the individual the importance of reflecting on our lives, sharing our experiences with others, and opening our hearts and minds to those who walk with us and those who have gone before us.
---
November, 2011
Composthermal Heating with Baled Hay
Cold Spring Farm
A hands-on workshop building low cost warmframes.
---
October, 2011
PSU Sustainable Solutions Seminar
A business partnership with posterity: Creating an enhanced operating system for the world's economies
5:00–6:30 p.m.
Portland State University, Shattuck Hall Annex, 1914 SW Park Avenue (Annex at SW Hall and Broadway)
Free and open to the public.
Join us this Wednesday at Portland State University for a talk and panel with Hank Patton, the Chairman of World Steward. The lecture will be streamed live, and participants from the web are welcome to put questions to the panelists.
A truly healthy economy must provide adequate jobs, security and wellness to all people while at the same time protecting natural resources for current and future generations. PSU researchers are examining alternative solutions to enable economies to perform all these functions effectively and efficiently. One possible approach, called "intergenerational finance," gives future generations the ability to partner with actors in today's economy through trustees, long-term financing and markets based on scientifically developed metrics designed to assure greater and more equitable wealth creation while restoring natural systems. Hank Patton, the concept's designer, will present the idea, and researchers will lead a discussion on it and other proposed solutions, like taxes, public trusts, regulation and cap and trade.
Download the background paper.
---